What I ate Wednesday! Woo-hoo! Joining Jenn and everyone over at Peas and Crayons in the party again this week!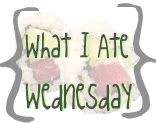 First we'll start with breakfast. Yes. I did in fact re-use last week's photo! I had the same thing, so why not?! :) Luna bar and water. So yum.
Lunch was super yum sushi. I was ut and about, and saw a sign for sushi, and pretty much gravitated towards the door. Sushi and I are great friends! So, here's my Miso Soup and Sushi!
Dinner was pretty simple, I was obviously craving something green!
Post-workout smoothie, baby spinach with Raspberry vinegarette spray dressing. (10 sprays of this stuff is only 10 calories! And it's so flippin delicious!), and steamed broccoli.
So there's my WIAW! I'm off to buy my mom's day presents, mail them, and then go to the doctor's to get an implant removed from my arm. I'll be sure to take pictures. I hope it doesn't hurt, I'm kind of nervous... Haha! I totally got my hair done yesterday, btw. It looks boss. I'll be sure to get some nice pics, but I have to wait. Virginia decided to storm this morning. So it's freezing and wet, and after work this morning (all 5 minutes of it), I looked like a drowned rat. Haha. :)
Have a great day, and I'll be back later!